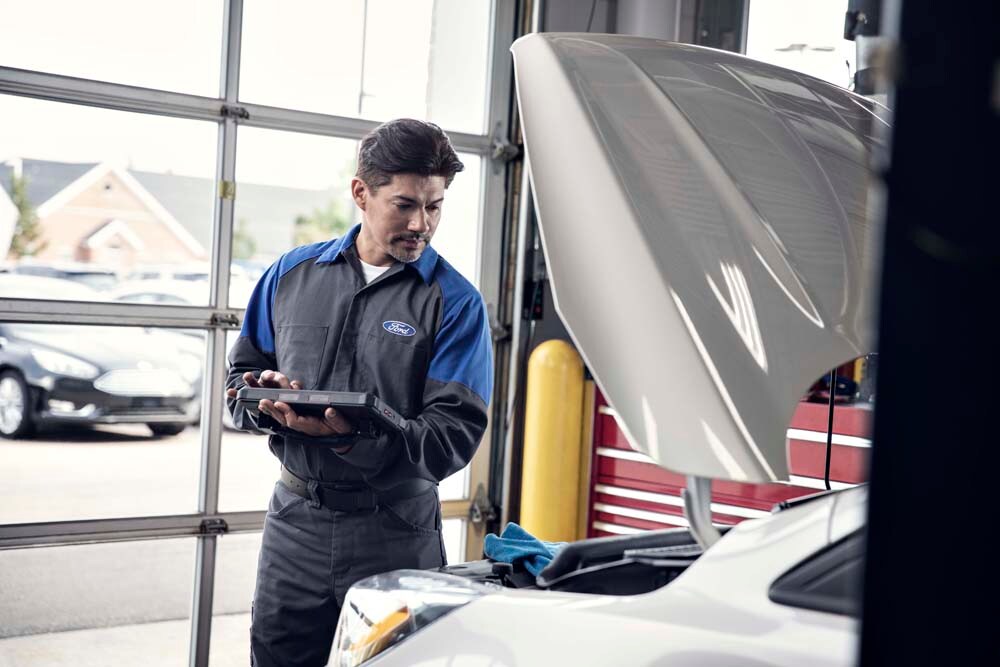 Your Ford is meant to be used to its fullest potential. It is built for adventure and connecting you with others. Sure, repeated use can cause some wear and tear, but using Hall Ford service will keep it running in tip-top shape for years to come.  
Stop by Hall Ford Newport News for your routine oil changes, tire rotations, and brake inspections, and have our specialized staff care for your car!   
My Car's Running Fine! Why Should I Care About Maintenance?
There's a lot you don't see under the hood. Old oil and worn-out parts can cause irreversible and dangerous damage if not treated soon enough, so even if your drives seem smooth, regular tune-ups are still essential for your safety.  
Luckily, it's easier than ever to schedule a service appointment at Hall Ford Newport News. Set everything up from your smartphone or computer, drop off your car, and let us handle the rest!  
Vehicle Maintenance Checklist
Oil Change:

 The oil in your car does a lot of heavy lifting. It lubricates all the tiny moving parts in the engine so that they don't grind together and cause friction that can really hurt your vehicle. Set a reminder to get an oil change every 5,000 miles to 7,000 miles (or at your vehicle's specific interval)!  

Tire

 Service

:

 These babies literally keep you moving forward! Make sure you're regularly getting tire rotations and checking on the air pressure. They play a huge role in ensuring you have a smooth, safe, and stable ride.   

Brake Service

:

 There's not a person on this planet who can drive a car without brakes. Bring your car in for fluid replenishment, inspection, or repair. You can also order parts, such as brake pads, from our Ford parts department any time. 
Light

 Replacement

:

 From headlights to turn signals to brake signals to high beams, let there be light! Make sure these are always working to keep everyone on the road alert.  

And more!

 
Schedule
 Ford
 Service Today
Ford vehicles are built to last-make sure yours lives its full life by giving it regular maintenance. If you have any other questions about ways to keep your car running in mint condition, contact our Ford dealership. We're here to help!