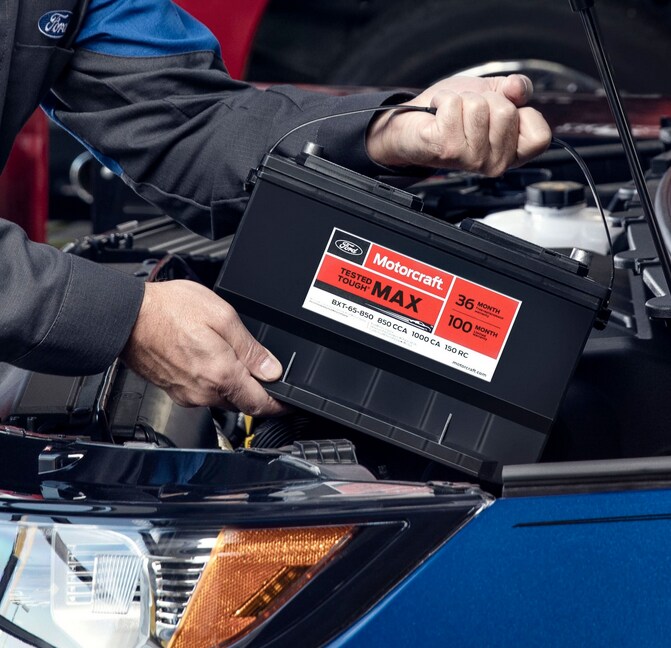 At Hall Ford Newport News, we'll help you take care of every part of your vehicle, including your battery. A crucial component in your vehicle, it's important to know how it functions and when it may need reliable Hall Ford service.

What Does a Car Battery Do?

The battery under the hood helps your Ford operate by powering the starter. It also supplies power to the electrical systems in your car, like your radio and the HVAC system. Many vehicle batteries ignite a lead-acid chemical reaction to operate. They are considered "SLI," which means they are responsible for the starting, lighting, and ignition.

What Are Signs That You Need a New Battery?

There are a few signs that your battery could need service or even a new battery. Having a hard time starting your car is often an indication that your battery is experiencing issues. Also think of the age of your battery. If it's more than five years old, it's likely past its prime and could be due for a replacement. Extreme weather could also put your battery to the test, which is why we often recommend that drivers get their battery serviced after the cold winter and warm summer months.

Additional indicators your battery needs attention:
Dim lights and electrical issues
Check engine light illuminated
Foul smell
Corroded connectors
Bulging battery case
In our Hall Ford service center, we can check for corrosion on the connectors, test its charge, and provide replacement if necessary. We're proud to offer an onsite Ford parts center with the necessary tools to service and repair your vehicle's battery.
Schedule Ford Battery Service in Newport News, VA
If you need help taking care of your Ford vehicle, we're here to assist you. Visit our Ford dealership and talk to our factory-trained mechanics about your battery issues or any other problem you may be experiencing. We are always more than happy to help here at Hall Ford Newport News.